Reflective Tape for Bicycles and Motorcycles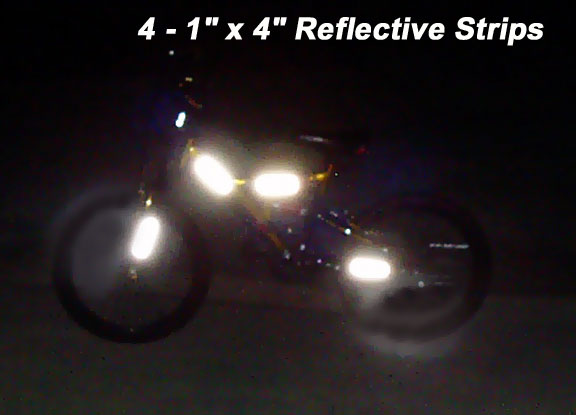 There are several types of reflective tapes available to bike riders and motorcyclists for nightime visibility. The four most popular are Engineer grade or Type I, High Intensity or Type III, Prismatic DOT or Type V and SOLAS or Type IX. They are all reflective, however, they each vary in intensity.

The chart at the bottom of this page shows the results of a test we ran with the 4 most common types of reflective tape. For neighborhood riding the engineer grade is fine. For highway riding where cars must see you sooner the prismatic or solas tapes are recommended.
---
Click Here to purchase 1 x 4 strips of Type 5 or Type 9 Reflective Tape for your bicycle or motorbike
Click Here for Engineer and High Intensity Glass Bead Type Reflective Tapes in larger quantities
Click Here for SOLAS and Prismatic Type Reflective Tapes in larger quantities
---
To visit our main safety products site Click Here. If you have any questions about which tape is right for your application or need samples feel free to email me at steve@reflectivestore.com

Steve Cole - Owner
850-934-3157

---