Reflective Engineer, High Intensity and Prismatic/Diamond Grade Bollard or Post Marking Tapes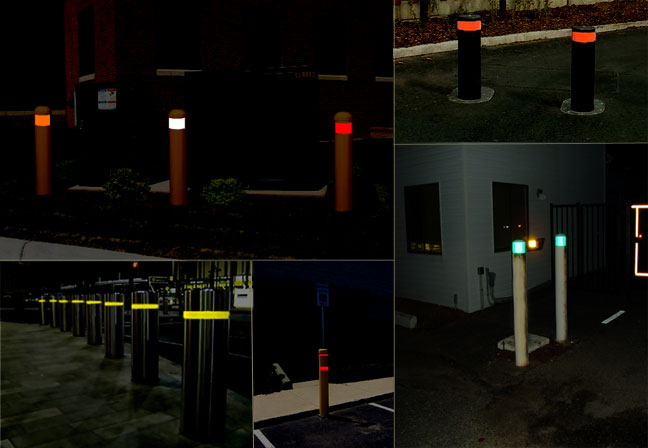 Bollards and Posts have been used for centuries as barriers around buildings, fences, gates and other objects that an impact could damage. The Romans utilized cement and stone bollards to protect their buildings and roadways. Today we use them as protection for automatic gates, buildings, roads, parks, utility boxes, parks, sidewalks, entrances, and much more.

By marking bollards with reflective tape you can minimize impacts at night thus preserving both the bollard and the vehicle. In other words, a bollard that can be easily seen may never have to be tested by impact. Most people use reflective tape from 1" to 4" wide in a contrasting color to attract attention night and day. Others like to use a matching color so that the tape is mostly visible only at night. We carry reflective tapes in 8 colors and three basic types.

Our Engineer grade or Type I reflective tape is very popular for marking bollards and posts. It has no pattern on top and is simply a solid color to the naked eye. When light strikes this tape it lights up. Engineer grade tapes reflect at a rate of about 75 candlepower for white and less for other colors. This is the material that you would typically find on a speed limit or stop sign. It is also very popular on emergency vehicles We the flexible engineer grade version because it is pliable and will stretch if necessary making it perfect for all applications.

Our High intensity reflective tape is characterized by a honeycomb pattern. Within each honeycomb there are concentrations of glass beads. It is classified as a Type III tape. The higher concentration of glass beads creates a much brighter tape. High Intensity tapes reflects at about 250 candlepower for the white and less for other colors. Traffic cones, road barrels and brighter street signs utilize this material. The main advantage of high intensity type III material is that it can be seen from farther away.

Lastly, our Prismatic / Diamond Grade Reflectve Tape is by far the brightest of our tapes and reflects around 700+ candlepower depending on the color. It is also known as a Type 5 reflective tape. Because it is so bright trucks and school buses use this material for night time visibility. It can be seen from very far away and is great in higher speed traffic areas. Where early recognition of objects is vital.

All of our tapes use a high strength adhesive and application is simply a matter of peeling the backing off and applying. The links below will take you to our stores and will give you more information on each grade of tape.
---
Click Here to see our Engineer Grade and High Intensity Reflective Tape
Click Here to see our Brightest Prismatic Reflective Tapes
Click Here to see our Reflective Pavement Marking Products
---
To visit our main safety products site Click Here. If you have any questions about which tape is right for your application or need samples feel free to email me at steve@reflectivestore.com

Steve Cole - Owner
850-934-3157

---