---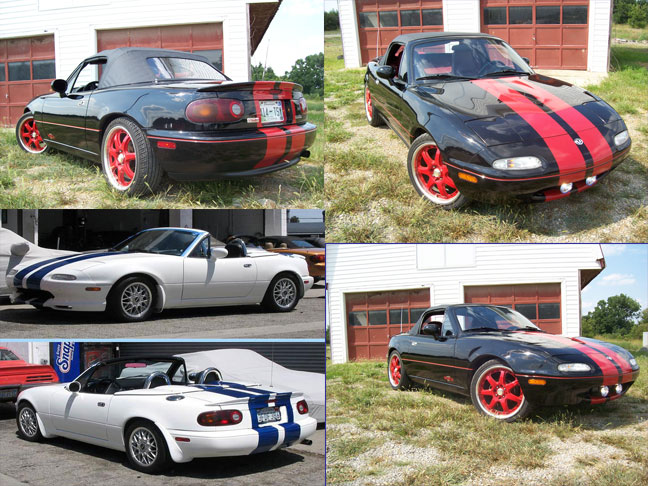 Dealer Quality 8" wide x 30' long MIATA racing stripes available with or without pinstripes.
Our Miata Stripes are designed for the Mazda Miata but will fit virtually any car.
This Mazda Miata kit includes a full 30 feet of high quality 8 inch striping cut from "Dealer Quality Vinyl" for only $44.99 without pinstripes and $49.99 with pinstripes. (Pinstripes are applied after the main stripes are installed.) (not shown on car above) You will also receive instructions and a squeegee.

YOU HAVE YOUR CHOICE OF WHITE, BLACK , SILVER, DARK BLUE and RED.
IT IS VERY IMPORTANT THAT YOU STATE WHICH COLOR YOU WANT BY INCLUDING A NOTE OR COMMENT WHEN YOU PAY.

MAZDA MIATA RALLY STRIPES INSTALLATION INSTRUCTIONS - To install our stripe kits first take a pair of scissors and cut the stripes into the lengths you will need for the hood, roof and trunk of your car. Make sure to cut each piece a little longer than the section you are striping. Keep these sections dry and set them aside.

Remove any emblems that may get in the way of the stripe. (replace them after the stripes are applied)

Clean the application area with rubbing alcohol.

After the car is clean, mix in a spray bottle 20 ounces of water, 1/4 teaspoon of unscented clear liquid JOY and 1/2 teaspoon of Isopropyl Alcohol. (if you do cannot get clear liquid joy any dishwashing liquid will work)

I normally find the center of the car and then take a roll of masking tape and run it from the front to the back of the car. If I want the stripes to be an inch apart I use one inch wide tape. If I want them two inches apart I use two inch tape and so on.

Once I have marked where the stripes will go I spray the car with soapy water and then I peel off the backing and spray the adhesive side of the first stripe with the soapy water as well. (remember to peel the backing off before getting the stripe wet) Position the stripe where you want it and slide it into place up against the masking tape you applied. For longer sections is it nice to have a second person help out. As long as the stripe and the car are wet with the soapy water you can work with the stripe. Keep the stripes you are not working with DRY.

Once the stripe is where you want it you simply squeegee it on. Spray a little soapy water on the stripe to allow the squeegee to glide over the stripe without scratching it. (wrapping the squeegee in a soft cloth will also protect the stripe from scratches) Repeat this process on all stripes and then trim any excess vinyl away with an exacto knife or razor blade.
TIP - for bumpers and other curved areas try heating the material with a hair dryer as you apply. This makes the vinyl soft and pliable

If you wish to order with a check or money order you can send $44.99(no pinstripes)or $49.99 (with pinstripes) plus $8 shipping along with a description of what you are ordering to

Cole Farms Inc.
1610 Guam Lane
Gulf Breeze, Fl 32563


---
---



8" KITS WITH OR WITHOUT PINSTRIPES

To order a 8 inch striping kit PLUS PINSTRIPES ($49.99 +$8 shipping) click below:

---
To order a 8 inch striping kit WITHOUT PINSTRIPES ($44.99 +$8 shipping) click below:

When you pay simply type in your color choice in the description box above the section where you put in your credit card information. If you pay with paypal put the color choice in the comments box. If you pay by mail just put in a note with the payment. You can also email me at the link above. These kits are available in WHITE, BLACK ,SILVER, RED AND DARK BLUE.

BACK TO MAIN PAGE FOR WWW.RALLYSTRIPES.COM