---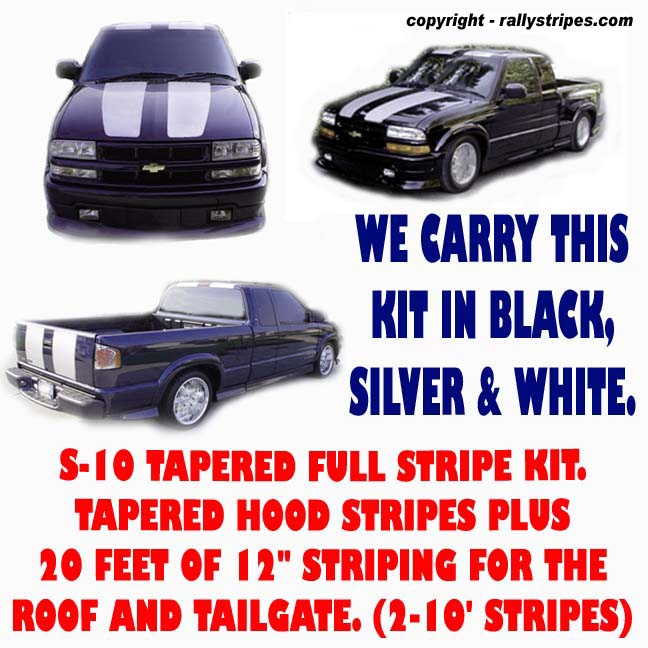 SUPER WIDE TAPERED RALLY STRIPES available in SILVER, BLACK, WHITE, RED AND DARK BLUE. !!

ABSOLUTELY BEAUTIFUL Chevrolet S-10 SOLID STRIPE KIT (no pinstripe) - designed for the new body style but will fit other models with no problem. Covers hood, roof and rear deck !!

This kit includes:

--Two hood stripes that measure about 12 inches wide at the back and 10 inches wide at the front.

--Rear stripes that are 10 feet long each and about 12 inches wide. They match up to the width of the back of the front stripes and cover the roof and tailgate.

For added flexibility the front stripes are cut a little longer than you need. Apply them and then trim the back after application.

These stripes are cut from super high quality ORACAL OR HI-CAL adhesive vinyl and will last for years and years.

I carry these kits in WHITE, BLACK , SILVER, RED & DARK BLUE.

IT IS VERY IMPORTANT THAT YOU STATE WHICH COLOR YOU WANT WHEN YOU PAY. PUT A NOTE IN WITH THE PAYMENT STATING WHAT YOU ARE PAYING FOR AND THE COLOR.

The stripes are solid with NO pinstripe. Easy instructions & a free squeegee are provided with the kit.

To install the stripes simply mix a spray bottle of 16-20 ounces water and 4 drops of dishwashing liquid together and spray both the car and the back of the vinyl stripe. (after peeling away the wax paper) Then slide the stripe into position and squeegee out any air bubbles with the free squeegee supplied with the kit. Once dry you simply trim any excess with an exacto knife or razor blade. Installation is so simple a 12 year old could easily put these on.

NOTE: As long as the stripe is wet you can work with it. When the soapy water solution evaporates the stripe is permanent until you want to remove it.

REMEMBER WHEN YOU PAY TO LEAVE A COMMENT STATING WHAT YOU ARE PURCHASING AND THE COLOR

If you wish to order with a check or money order you can send $79.99 plus $8 shipping along with a description of what you are ordering to

Cole Farms Inc.
1610 Guam Lane
Gulf Breeze, Fl 32563


---
---
To order this kit via credit card or paypal for $79.99 plus $8 shipping click below:



To add a separate sheet of pinstripes with 60 feet of 1/4" pinstriping to your kit for $5.00 click below and add the item to your shopping cart:



When you pay simply type in your color choice in the description box above the section where you put in your credit card information. If you pay with paypal put the color choice in the comments box. If you pay by mail just put in a note with the payment. You can also email me at the link above. These kits are available in WHITE, BLACK ,SILVER, RED AND DARK BLUE.

BACK TO MAIN PAGE FOR WWW.RALLYSTRIPES.COM