The Illustrated E-Guide to Moldmaking - NOW FREE !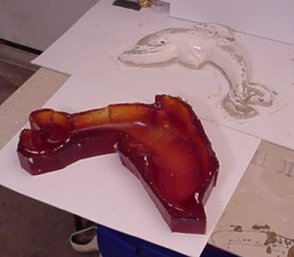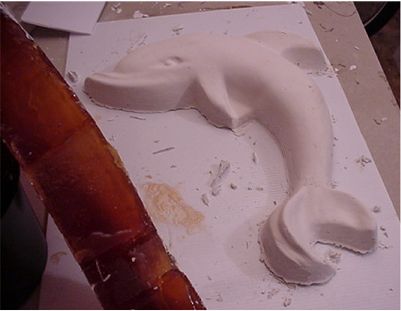 Make this mold from this or any original and make as many duplicates as you wish.
---
Making your own molds is the next logical creative step in the making of garden stones, wall plaques and garden benches. It takes your art to a new level that is not only more creative but very enjoyable. You can make a mold out of almost anything. In fact, because the material you will use is flexible, you have much more flexibility in what you can cast. The molds you make can be pulled back at the edges to release your casting thus making it possible to cast items that have convex edges or undercuts such as a garden bench. In addition, if you have ever considered getting into the statuary industry, learning to make the type of molds described in this e-guide is the first step.
A mold is used to create a replica of another object called the "model". This is done by imprinting a negative of the model into a material that can then be used to hold a casting medium like cement or plaster thus creating a duplicate of the original. Because it is relatively one dimensional, the process of creating a garden stone mold is actually quite easy.
This guide is specifically written as an instruction booklet for reproducing garden stones, stepping stones, wall plaques, and any other object that is relatively flat in nature. This type of mold is called a flat back mold. The process you will learn from this guide will create molds similar to stepping stone molds. To use the new mold you simply pour, let it set, and pop out the duplicate. Best of all, the mold can be used over and over again.
Two types of garden stone molds will be demonstrated in this guide.
The first is a one pour method using a two part urethane molding compound. When poured greater than 1/2 inch thick this material requires no mother mold to support it while pouring castings. It is relatively simple to make but more expensive due to the volume of molding compound it uses.
The second type of mold is a brushed on mold with a mother mold to support it. Urethane or Latex can be used with equal success. This method uses much less molding compound making it much cheaper to produce. However, because the molds are thinner and more flexible they require a mother mold made of plaster, fiberglass or cement to support them while castings are being made. Since plaster, fiberglass and cement are very inexpensive, the total cost of this type of mold is very low.
At the end of the guide there will be a listing of sources for the molding compounds that you will need along with the prices.
After you review this guide you should have a firm grasp on the following:
Choosing your model
Preparing your model
Sealing your model
Mounting the model to the baseboard
Building a containment frame
Sealing your containment frame
Applying a release agent
Mixing your liquid rubber or urethane
Pouring your mold
Making a mother mold when necessary
Demolding your model
Casting your first replica
The guide will come to you on a CD and can be opened and read using any internet browser. Pictures of each step as well as links to molding compound suppliers are integrated into the e-guide. If you are online while using the guide you can click on the links at the end of the guide and go to supplier sites automatically.

TO ACCESS OUR FREE ILLUSTRATED MOLD MAKING GUIDE CLICK HERE

For more information on our Stepping Stone Guide click here
---
---