---
---
THE ULTIMATE GUIDE TO MOSAICS - NOW FREE !!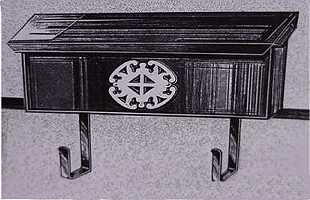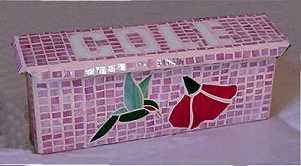 TURN THIS                                                          INTO THIS (IN 2 HOURS)
Stained Glass Mosaics are without a doubt one of the most fascinating of all the decorative arts.  With their unique ability to catch and reflect light, they can turn even plain objects into works of art.  Glass mosaic can be applied to almost any surface and is a decorative technique that anyone with a sense of design and creativity can use to create a masterpiece.
This guide and pattern package make up an easy to follow course on the art of designing and making stained glass mosaics.   It is designed for the beginner but includes a vast amount of information that will be useful to experts as well.  Complete marketing information is included for those who wish to make and sell their work.
The organization of this guide is very straight forward.  The step by step approach is used from pre-planning your design to cleaning the finished product and every aspect is covered in detail.


PAGE ONE OF THE MOSAIC GUIDE
PAGE TWO OF THE MOSAIC GUIDE
ILLUSTRATED ONLINE MOSAIC GUIDE
---
---
Privacy Policy - Third Party Advertising

Google, one of our third-party advertisers, may add a cookie to determine targeted advertisements based on your preferences and your visit to our site and other sites on the internet. You can choose to opt out of Google's use of cookies by visiting the Google ad and content network privacy policy.