HI INTENSITY TYPE III REFLECTIVE TAPE
1" 2" 4" 6"and 8"
FLEXIBLE HIGH INTENSITY REFLECTIVE TAPE
1" 2" 4" 6"
REFLEXITE V92 PRISMATIC REFLECTIVE TAPE
1" 2" 3" 4" 6"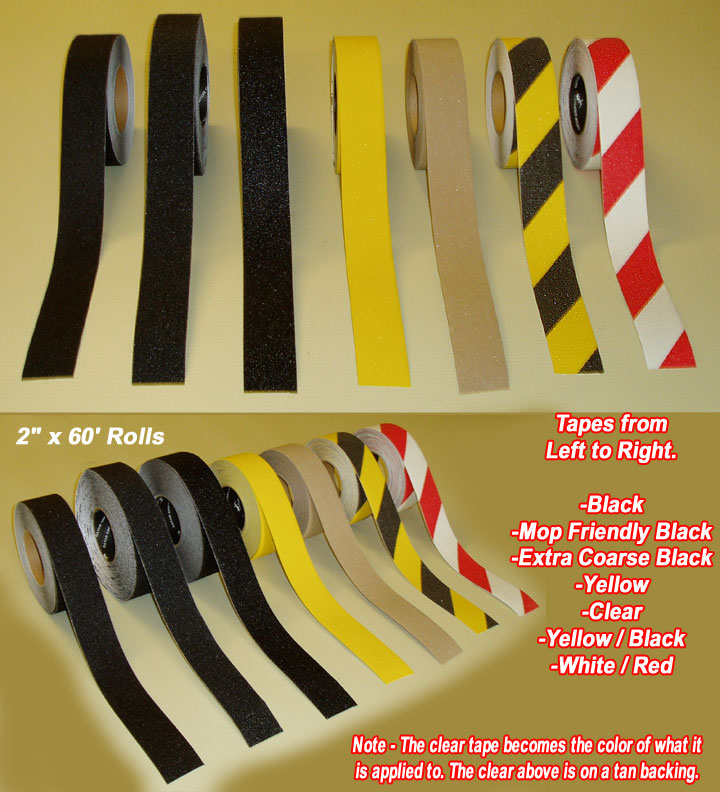 Industrial Grade 5100 Series 60 Grit Anti Slip Tapes.

This product is manufactured from a durable 60 grit mineral abrasive formulation bonded to an ultra tough polymer substrate and backed with a solvent based contact adhesive for instant grip. The result is a durable and reliable non skid tape.

An excellent and cost effective choice for commercial, industrial and residential indoor and outdoor non slip tape applications. Suitable for recreational areas such as ramps, playgrounds, pool areas, RV's, stairs, work areas, ladders, snowmobiles, scooters, construction machinery,vehicles, machine shops, hazardous floors, industrial equipment, lawn equipment, boat decks, trucks and trailers.

Our anti slip safety tapes MEET OR EXCEED: OSHA Spec 1910.24 Stair tread, OSHA Spec 1910.26 Ladder Rungs, Military Spec Mil-D-17951E-Ships, Military Spec Mil-W-5044C-Type IV, Motor Vehicle Safety Standard #302.

To install simply peel the backing off the tape and apply to a clean surface.
Installation instructions for difficult surfaces

We carry Non skid 2" tread tape in the following colors:

Black, Mop Friendly Black, Extra Coarse Black, Yellow, Clear, Yellow/Black and White/Red.

Note that the clear basically becomes the color of what ever it is adhered to. For example, in the picture above and below the tape is on a tan colored backing and therefore looks tan. The mop friendly tape is modified so that a mop can pass over it with minimal string catching. The Extra Coarse Black is a 36 grit for areas where extra traction is needed.

We carry the following types of non skid tape - 1 Inch, 2 Inch, 4 Inch, Glow in the Dark, Watch Your Step, Conformable,Non Skid Precut Treads/Cleats.
---

One Roll of 2" X 20' Premium Black Non Skid Tape


($14.99 per roll plus shipping) click below:


One Roll of 2" X 60' Premium Black Non Skid Tape


($29.99 per roll plus shipping) click below:


Case of 2" X 60' ROLLS (6 rolls per case) - Premium Black Non Skid Tape


($149.99 PLUS SHIPPING)-($24.99 per roll) click below:

---

One Roll of 2" X 60' Premium "Mop Friendly" Black Non Skid Tape


($34.99 per roll plus shipping) click below:


Case of 2" X 60' ROLLS (6 rolls per case) - Premium "Mop Friendly" Black Non Skid Tape


($179.99 PLUS SHIPPING)-($29.99 per roll) click below:

---

One Roll of 2" X 60' Premium "Extra Coarse" Black Non Skid Tape


($34.99 per roll plus shipping) click below:


Case of 2" X 60' ROLLS (6 rolls per case) - Premium "Extra Coarse" Black Non Skid Tape


($179.99 PLUS SHIPPING)-($29.99 per roll) click below:

---

One Roll of 2" X 20' Premium Yellow Non Skid Tape


($17.99 per roll plus shipping) click below:


One Roll of 2" X 60' Premium Yellow Non Skid Tape


($34.99 per roll plus shipping) click below:


Case of 2" X 60' ROLLS (6 rolls per case) - Premium Yellow Non Skid Tape


($179.99 PLUS SHIPPING)-($29.99 per roll) click below:

---

One Roll of 2" X 20' Premium Clear Non Skid Tape


($17.99 per roll plus shipping) click below:


One Roll of 2" X 60' Premium Clear Non Skid Tape


($34.99 per roll plus shipping) click below:


Case of 2" X 60' ROLLS (6 rolls per case) - Premium Clear Non Skid Tape


($179.99 PLUS SHIPPING)-($29.99 per roll) click below:

---

One Roll of 2" X 20' Premium Yellow/Black Hazard Non Skid Tape


($17.99 per roll plus shipping) click below:


One Roll of 2" X 60' Premium Yellow/Black Hazard Non Skid Tape


($34.99 per roll plus shipping) click below:


Case of 2" X 60' ROLLS (6 rolls per case) - Premium Yellow/Black Hazard Non Skid Tape


($179.99 PLUS SHIPPING)-($29.99 per roll) click below:

---

One Roll of 2" X 60' Premium Red / White Non Skid Tape


($34.99 per roll plus shipping) click below:


Case of 2" X 60' ROLLS (6 rolls per case) - Premium Red / White Non Skid Tape


($179.99 PLUS SHIPPING)-($29.99 per roll) click below:

---
If you wish to order non slip tape rolls with a check or money order you can send payment along with a description of what you are ordering to

Cole Farms Inc.
1610 Guam Lane
Gulf Breeze, Fl 32563


---
About our products - We carry the finest quality industrial/commercial grade anti slip tape available. Our anti slip tapes are all manufactured using the highest quality raw materials that result in a durable application that is resistant to heavy traffic, water and grease. Our tapes provide a consistent co-efficient of friction with easy installation. To install simply position, peel-off the release liner and apply to a clean, dry, oil free surface or painted wood surface. Our low profile tapes help prevent edge curl and install over most irregular surfaces.

We ship US Priority Mail for anti slip traction tape rolls and UPS for large orders. Delivery time is approximately 3-5 days on most standard orders.

Return and Order Cancellation policy - 2" non skid tread tape orders can be cancelled until they are shipped out. After that we do not accept returns unless there is a defect in the product that cannot be remedied. If an item is found to be defective it can be returned for a full refund of the purchase price.

Privacy Policy - all customer information is kept in strict confidence. We do not release any information on any of our customers to anyone without that customers consent.

Product list - clear 2" non skid tape, black 2" non skid tape, yellow 2" non skid tape, hazard 2" non skid tape
---