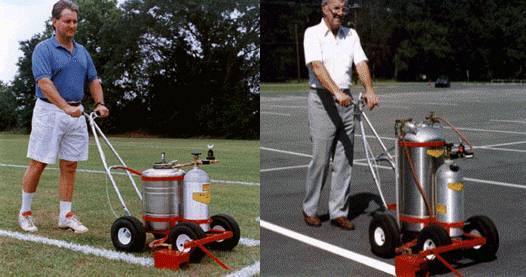 ---
If you order your Trueline Striper through us you will get the following:
1. Quick Shipping.
2. Technical assistance 7 days a week.
3. Business and marketing assistance 7 days a week.
4. Sample forms for advertising and invoicing.
5. How to save up to 50% on striping paint and how to make it dry at night.
6. How to make professional stencils for $10.00 each.
7. A FREE copy of our striping/sealcoating spreadsheet pricing program.
8. How to make a power roller for your machine for $40.00.
9. How to make a parking space layout tool for $10.00 (for different angles)
10. How to paint car stops (bumpers) quickly and easily. (make $10 in 3 minutes)
11. How to bid and get jobs.
12. How to advertise for less.
13. Full information on Two related businesses that can make you thousands per year.
14. How to maintain & work on your Trueline striper yourself and save.
15. How to save $240 per year.
Parking lot restriping was recently rated as one of the 100 top small businesses in America. The investment is low and the profits are high. Once you have your equipment, materials make up less than 10% of each job. THE REST IS YOUR PROFIT! Earn $2,000 - $4,000 per month with ease.
TRUELINE paint stripers are airless paint striping machines that spray a smooth, clean stripe on all types of surfaces. Unlike similiar models, Trueline stripers are designed to handle small jobs as well as large commercial jobs. Believe it or not, the quality of the stripe is better than that of machines costing 3 to 4 times more. They are light weight, simple, quiet, easy to clean, and will spray any paint with virtually no moving parts to wear out. All models use stainless steel paint tanks and brass and stainless fittings for a long dependable life. The frame is welded and made of heavy duty high tensile steel for dependability and consistent performance. Trueline stripers may be powered by compressed air, CO2 gas, or nitrogen. (There is also a battery powered model.) Nitrogen is a neutral gas and will not react with modern traffic paints and one tank will put out 100 gallons of paint or 35,000 - 50,000 feet of stripes. (refills are about $10.00, a lot less than the cost of gas for motor powered machines) These cylinders provide 115 lbs of operating pressure which is essential for a good, clean, heavy stripe. (Other similiar stripers only give you 30 lbs of pressure.)
Options are: a hand spray gun for logos and bumpers; a double line attachment for highway work; a glass bead dispenser for jobs needing high reflectivity and durability; and a solvent cleaning system for easy flushing of paint from the system.
This product has been manufactured for the past 40 years and THOUSANDS of machines are currently in the field in daily use. The stripers are perfect for the small business person starting out with $1,000.00 - $1,500.00. (Note:there is a pump up model available for $695 that is great for small jobs.)
We purchased a model 250N for our business and made back our investment in 1 week on just one job! (a building supply parking lot with approximately 700 stripes)
The manufacturer has been producing these machines since 1964 and guarantees them for 7 years against rust through and 1 year against all defects! A Satisfaction Guaranteed 10 day trial period is also available. All Models ship UPS and can be to your doorstep in 1-3 days. Visa & Mastercard are accepted.

Models Available: (click on model for picture)
Model 20 - Pump up striper - $695.00/$750.00 for the plus model
Model 250 (battery powered) - starting at $1,898.00
Model 250N (Nitrogen powered) - $1,495.00 (this is the model that we use)
Model 350N (Nitrogen powered-10 gallon tank)- $1,895.00
Model 220 & 250 APT (compressed air) - starting at $1,685.00
Spray gun - $239.00
Glass Bead Dispenser - $395.00
Solvent Cleaning System - $245.00
Double Line Attachment - $286.00
Specifications common to all models:(except model 20)
Frame - Welded heavy duty iron steel with 5/8" axles.
Wheels - 10" pneumatic tires, heavy duty steel hub, steel ball bearing, load rating of
100 lbs each.
4" Spray Box - Heavy gauge steel, fixed width for precision lines (other widths available)
Drain valve - Drain hose makes cleanup a quick clean job.
9" funnel - 8 quart galvanized funnel with fine mesh aluminum strainer.
Tank Brush - For cleaning inside of paint tank.
Parking Brake - Keeps machine from rolling down hills
Viscosimeter - To measure paint thickness.
Extra Spray tips - For heavier coverage.
Fittings - Brass & stainless steel
98% assembled - Within 30 minutes you are ready to stripe. (very easy to operate)
For more information as well as pricing, call Scott or Steve Cole at the numbers below: (We are also an end user of the machine and can give first hand info on the quality and use of these stripers.)

Cole Striping Company
Pensacola, Fl
Steven Cole -(850) 934-3157
---
Steven Cole - Florida
e-mail address is: steve@colebrothers.com
CLICK HERE FOR INFORMATION ON STARTING A STRIPING BUSINESS
CLICK HERE TO GO TO OUR ONLINE PAINT-STRIPERS.COM STORE
QUESTIONS AND ANSWERS ON STRIPING & THE TRUELINE STRIPER
FREE ARTICLES ON THE PARKING LOT STRIPING BUSINESS
CLICK HERE FOR LINKS TO OUR BUSINESS GUIDES
NEW PRODUCT! - PARKING LOT STRIPING TAPE AVAILABLE IN WHITE & YELLOW
#COUNT


Privacy Policy - Third Party Advertising

Google, one of our third-party advertisers, may add a cookie to determine targeted advertisements based on your preferences and your visit to our site and other sites on the internet. You can choose to opt out of Google's use of cookies by visiting the Google ad and content network privacy policy.