Reflective Engineer, High Intensity and Prismatic Grade Chevrons and Striping Tapes for Fire Apparatus - NFPA 1901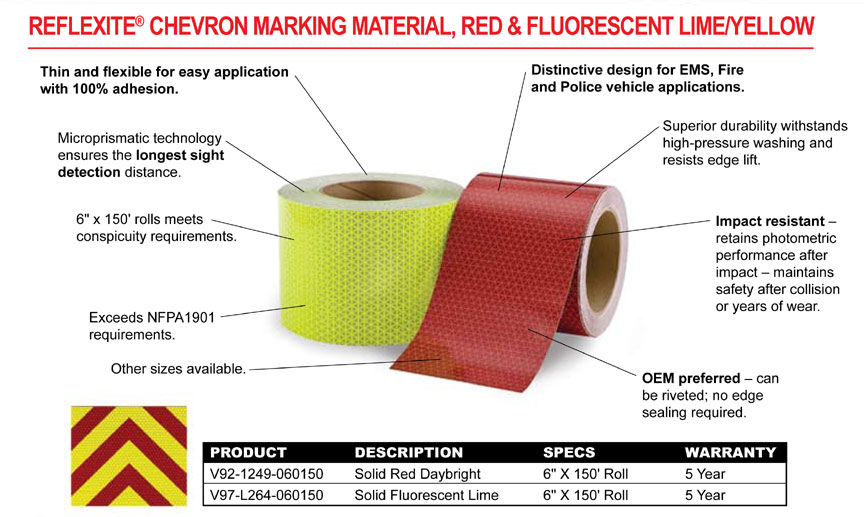 Beginning in 2009 Fire Trucks and Emergency vehicles will be subject to new standards for retro reflective striping. The new standards call for reflectivity levels of type I or better. Type I is also referred to as engineer grade reflective and is the most affordable class of tape. Type III is known as high intensity reflective tape and is more expensive but still relatively affordable. Prismatic films are even brighter and would be comparable to a Type V film. We carry all of these types of reflective tapes in yellow and red and in 6" by 150 and 6" x 30 foot rolls. The two tapes are further described below. We also carry a full line of chevron striping at our main reflective store. Our colebrothers.com store also has other colors and widths of engineer grade, high intensity and prismatic reflective tapes. We carry reflective dots, overlays and squares for creating chevron striping on diamond tread plate at our Reflective Shapes Store. The specifics of the new regulation are as follows:


---
NFPA 1901 Standards For Retro Reflective Striping on Fire Trucks and Emergency Vehicles

REFLECTIVE REQUIREMENTS FOR DOORS

14.1.6 Any door of the apparatus designed to allow persons to enter or exit the apparatus shall have at least 96 in.2 (62,000 mm2) of retro-reflective material affixed to the inside of the door.

15.9.3.1* A retro-reflective stripe(s) shall be affixed to at least 50 percent of the cab and body length on each side, excluding the pump panel areas, and at least 25 percent of the width of the front of the apparatus.

15.9.3.1.1 The stripe or combination of stripes shall be a minimum of 4 in. (100 mm) in total width.

15.9.3.1.2 The 4 in. (100 mm) wide stripe or combination of stripes shall be permitted to be interrupted by objects (i.e., receptacles, cracks between slats in roll up doors) provided the full stripe is seen as conspicuous when approaching the apparatus.

15.9.3.1.3 A graphic design shall be permitted to replace all or part of the required striping material if the design or combination thereof covers at least the same perimeter length(s) required by 15.9.3.1.

REFLECTIVE REQUIREMENTS FOR THE REAR OF THE VEHICLE

15.9.3.2 At least 50 percent of the rear-facing vertical surfaces, visible from the rear of the apparatus, excluding any pump panel areas not covered by a door, shall be equipped with retro-reflective striping in a chevron pattern sloping downward and away from the centerline of the vehicle at an angle of 45 degrees.

15.9.3.2.1 Each stripe in the chevron shall be a single color alternating between red and yellow.

15.9.3.2.2 Each stripe shall be 6 in. (150 mm) in width.

15.9.3.3 All retro-reflective materials required by 15.9.3.1 and 15.9.3.2 shall conform to the requirements of ASTM D 4956, Standard Specification for Retro-reflective Sheeting for Traffic Control, Section 6.1.1 for Type I Sheeting.

15.9.3.3.1 All retro-reflective materials used to satisfy the requirements of 15.9.3.1 that are colors not listed in ASTM D 4956, Section 6.1.1, shall have a minimum coefficient of retro-reflection of 10 with observation angle of 0.2 degrees and entrance angle of −4 degrees.

15.9.3.3.3 Any printed or processed retro-reflective film construction used to meet the requirements of 15.9.3.1 and 15.9.3.2 shall conform to the standards required of an integral colored film as specified in ASTM D 4956, Section 6.1.1.

REFLECTIVE REQUIREMENTS FOR OTHER PARTS OF THE VEHICLE

19.18.11 Where the design of the aerial device incorporates a knuckle, the knuckle shall be as follows: (1) Equipped with position lights or continuously illuminated by boom lights (2) Painted with reflective paint or provided with retro-reflective Striping

19.21.4.3 All stabilizers that protrude beyond the body of the apparatus shall be striped or painted with retro-reflective material so as to indicate a hazard or obstruction.
---
Engineer grade or Type I reflective tape has no pattern on top and is simply a solid color to the naked eye. When light strikes the tape it is reflected back to the source and the tape appears to light up. Engineer grade tapes typically reflect at a rate of about 75 candlepower for white and less for other colors. This is the same material that you would typically find on a speed limit or stop sign. It is also very popular on emergency vehicles and makes up most of the reflective lettering that you see. We carry the flexible engineer grade version because it will stretch making it perfect for applications on vehicles.

High intensity reflective tape is characterized by a honeycomb pattern and is also referred to as encapsulated lens reflective tape. Within each honeycomb there are concentrations of glass beads. Many more per square centimeter than engineer grade tape. This concentration of glass beads creates a much brighter tape. High Intensity tapes give off around 250 candlepower for the white and less for other colors. Traffic cones and road barrels use this material as well as many brighter street signs. Many fire departments prefer the high intensity type III material because it can be seen from further away.

Prismatic tapes which include our V92, V97, V82, and CRG tapes reflect light using prisms. These films are much brighter than engineer or high intensity tapes. They can generally be seen from over a thousand feet away. In fog or snowy conditions this if a definite safety advantage. The V92/V97 combination of Red and Fluorescent Lime Yellow is the most popular combination.


---
Click Here for Engineer Grade Type I Reflective Chevron Tape in 6" Widths
Click Here for High Intensity Type III Reflective Chevron Tape in 6" Widths
Click Here for Prismatic V92 Red & Flourescent Yellow Reflective Chevron Tape in 6" Widths
Click Here for Prismatic V82 Red & Yellow Type 5 Reflective Chevron Tape in 6" Widths
Click Here for Prismatic CRG Red & Yellow Type 8 Reflective Chevron Tape in 6" Widths
Click Here for our premade Reflective Chevron Panels
---
If you have any questions about which tape is right for your application or need samples feel free to email me at steve@colebrothers.com

Steve Cole - Owner
850-934-3157

---