Reflective Raised Road Markers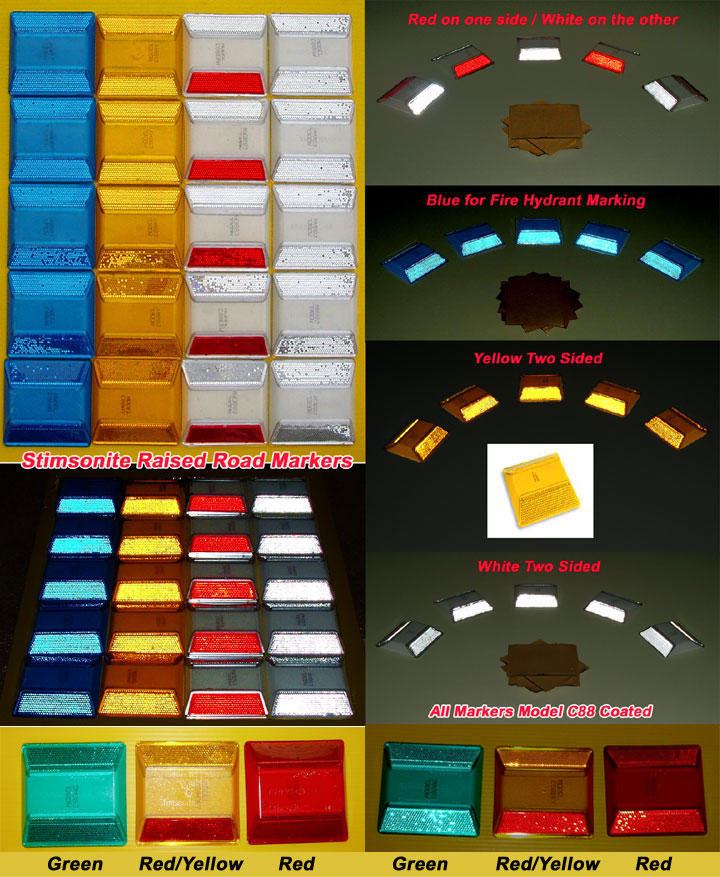 Reflective Raised Pavement Markers

Our C88 Reflective Stimsonite Road Markers are extremely durable, very bright and simple to install. They are currently available in blue, yellow, white, yellow/red, green, red and white/red. Great for marking around gates, parking lot marking, fire hydrant marking and other uses. The Stimsonite model C88 measures 4 inches square and is reflective from both directions. The blue markers are primarily used for hydrant markers. The other colors have various applications depending on the state and county. In parking lot and private applications you are generally free to use the color you prefer for the desired application. It is advisable however to use the blue markers only as hydrant locators to avoid any confusion.

If you are using these markers on a DOT (department of transportation) roadway you should verify that the C88 marker is approved in your area.

Can be applied using a two part epoxy, melt down thermoplastic adhesive or by using our 4" x 5" butyl adhesive pads. To use the adhesive pads simply peel off one side of the pad and apply it to the pavement then peel the other side off and install the marker. Roll over the marker with a vehicle to get maximum adhesion. The adhesive butyl pads are sufficient for construction zones or light to medium traffic flow. In cold weather use a torch or heat gun to warm the asphalt and pad.

The number of uses for these markers is endless. They are popular because you can see them and also feel them as you roll over them. This makes them vital on roadways but is also a great feature in parking lot environments. Many facilities that use shopping carts use the markers to form cart areas in the parking lot. The raised markers make the area very visible and keep the carts in place. They are also used to mark speed bumps, curbs and drainage areas.
---
Click Here to see Reflective Raised Pavement Markers
Click Here to see our other Reflective Pavement Marking Products
---
To visit our main safety products site Click Here. If you have any questions about which tape is right for your application or need samples feel free to email me at steve@reflectivestore.com

Steve Cole - Owner
850-934-3157

---