Sew On Reflective Fabric Tape - How It Works and Where to Get It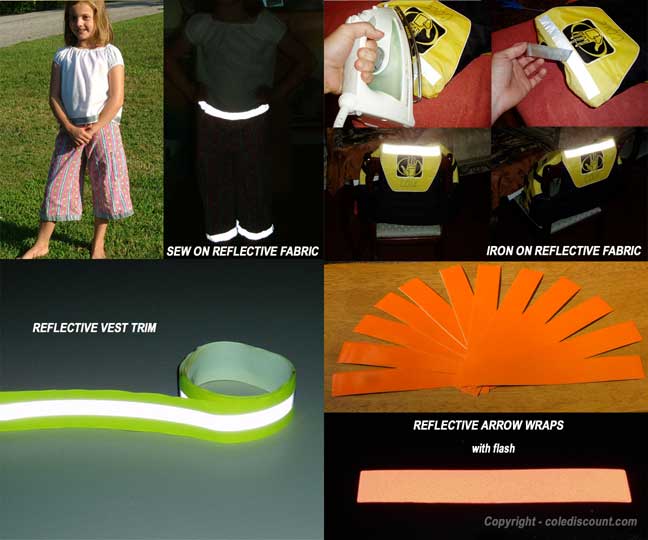 SEW ON REFLECTIVE TAPES & FABRICS

There are several types of tape that can be added to clothing to make it reflective and provide night time safety. One of the most popular tapes is "sew on reflective tape". It has been used for decades to provide night time safety in industries like coal mining, road construction, law enforcement, emergency services, and more. It is also used to keep pedestrians, children, motor cyclist and bikers safe at night.

Reflective sew on tape reflects light via thousands of glass beads embedded into the fabrics surface. The beads give the tape a silvery appearance in the daytime but reflect a bright white at night. The tape is a retro reflective tape meaning that it returns the majority of the light back to the source of the light. This makes the tape visible from hundreds of feet away.

At Colesafety.com we carry the standard silver reflective fabric tape that reflects white and also the black reflective fabric that also reflects white. The most popular by far is the silver/white sewon reflective tape but many motorcyclist prefer the black due to its inconspicuous appearance in the daytime.

Both sew on reflective tapes are easy to install using a sewing machine and can handle multiple washings. The silver/white tape that we carry is ANSI rated and reflects over 350 candlepower.

We also carry iron on reflective tape, sew on prismatic PVC vest trim and sew on fabric vest trim with the fluorescent outer bands and the reflective center stripe.
---
Click Here to go to our STORE
---
If you have any questions about which tape is right for your application or need samples feel free to email me at colediscount@yahoo.com

Debbie Cole - Owner