Adhesive & Sew On SOLAS Marine Tape - Popular Applications for Kayaks & Boats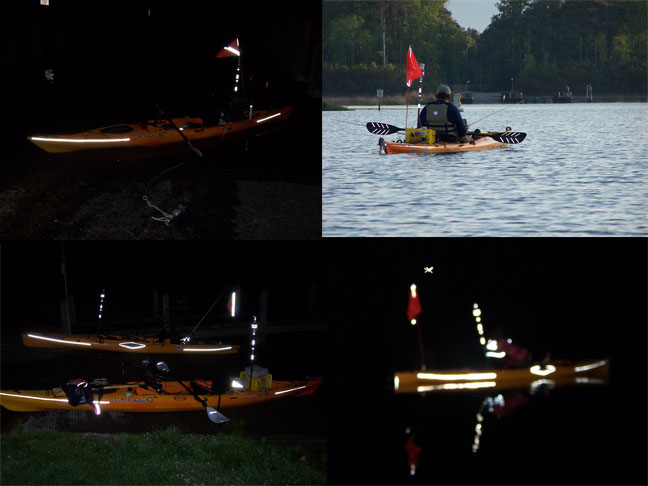 ---
Click Here for more information on SOLAS Tape including how to order it.
Click Here for Engineer and High Intensity Glass Bead Type Reflective Tapes
---
A customer by the name of Jim Shank sent me some pictures and a description of how he uses SOLAS marine tape to keep his family safe and visible while kayaking. His pictures are above and his comments about how he uses the tape are below.

SOLAS Tape Rocks !!

Sir,

Just thought you might want a couple pics to help get this idea across, and give others another thought about what they can do with your product.

My wife and I both face physical challenges, but neither of us has let this stop us. Although I am a disabled veteran, my Marine Corps attitude lets me attack life head on, and that's what we do. A few years ago we discovered kayak fishing and have even begun fishing under the spans of the Hampton Roads Bridge Tunnel in the Norfolk area. As a Former Marine Aviator, safety has always been high on my list and being seen at night in case of emergency is key. My kayak, my gear, and our PFDs all got a touch of SOLAS, a product that I became very familiar with in the Marines, we striped our flight helmets with it.

I have been a very vocal supporter of your product on the kayaking forums on kayakfishingstuff.com (vakayakangler) and have bookmarked your site. We will soon be ordering another roll ourselves, as we have a new boat that needs attention. In addition, I will send your link to all who ask.. I see fair prices and a great product...what more can you ask? As I tell folks, you can buy SOLAS tape or you can buy a similar product, but only SOLAS is that freakin bright.

Jim and Tina Shank
Willow's Ridge Farm
Virginia


P.S. - I am currently only teaching private firearms classes and rape prevention on my small farm here in cumberland, but I still love it. (another great use for solas is a very thin strip around your firearm magazine body, if you drop a mag during a speed reload in the dark, you can sweep the area with your flashlight and find the mag easily, but the solas tape is hidden in the mag well or mag pouch otherwise... excellent officer safety information!)
---
Click Here for more information on SOLAS Tape including how to order it.
Click Here for Engineer and High Intensity Glass Bead Type Reflective Tapes
---
To visit our main safety products site Click Here. If you have any questions about which tape is right for your application or need samples feel free to email me at steve@colebrothers.com

Steve Cole - Owner
850-934-3157

---