TYPE 3 - HIGH INTENSITY REFLECTIVE (GLASS BEAD TYPE)
1" 2" 4" 6" and 8"
TYPE 3 - FLEXIBLE HIGH INTENSITY (GLASS BEAD TYPE)
1" 2" 4" 6"
TYPE 4 - HIGH INTENSITY REFLECTIVE (PRISMATIC TYPE)
1", 2", 4", 6", and 8"
REFLEXITE V92 PRISMATIC REFLECTIVE TAPE
1" 2" 3" 4" 6"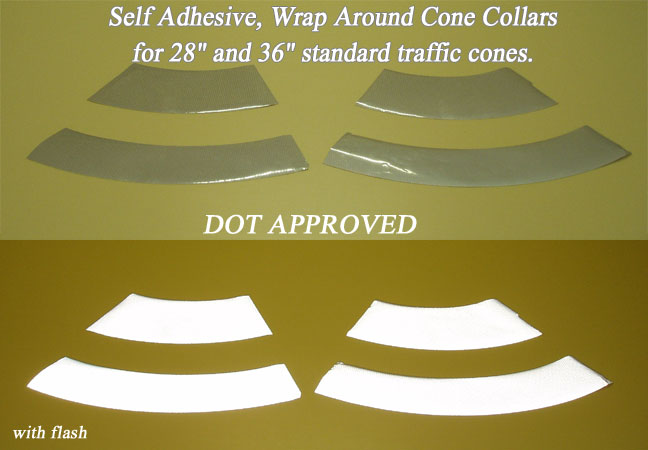 Our Reflective Traffic Cone Collars / Sleeves insure that your traffic cones will be seen at night. Sold in packs of 25 collars. We carry the wrap around collars that are applied by peeling the backing off the material and wrapping it around the cone. The collars are curved so that when they are applied they create a level band around the cone. These are DOT APPROVED collars and exceed all reflectivity requirements. They meet ASTM D-4956 Type III standards. They are cut from Type III Hi Intensity Sheeting. The sheeting is reboundable meaning that it is flexible and will rebound when hit by a vehicle. Collars are available for 18", 28" standard, 28" Slim and 36" standard traffic cones. We carry the 4" and 6" collars. Most states require a 6" reflective collar and a 4" collar on each cone.

All cones vary so there may be slight differences in sizes but as long as your cone is close to the standard sizes the specified collar should work fine.
---
---
About our products - We carry quality industrial/commercial reflective products.

We ship US Priority Mail for the reflective traffic cone collars / sleeves and UPS for large orders. Delivery time is approximately 3-5 days on most standard orders.

Return and Order Cancellation policy - Reflective cone collar orders can be cancelled until they are shipped out. After that we do not accept returns unless there is a defect in the product that cannot be remedied. If an item is found to be defective it can be returned for a full refund of the purchase price.

Privacy Policy - all customer information is kept in strict confidence. We do not release any information on any of our customers to anyone without that customers consent.

---