HI INTENSITY TYPE III REFLECTIVE TAPE
1" 2" 4" 6"and 8"
FLEXIBLE HIGH INTENSITY REFLECTIVE TAPE
1" 2" 4" 6"
REFLEXITE V92 PRISMATIC REFLECTIVE TAPE
1" 2" 3" 4" 6"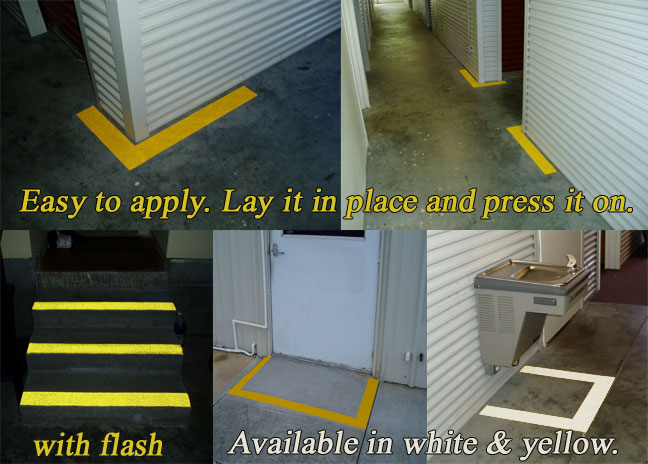 SEE MORE PRODUCT PICTURES AT THE BOTTOM OF THE PAGE.
NOTE - IT IS VERY IMPORTANT THAT THIS TAPE BE PRESSED ONTO THE SURFACE WITH ENOUGH PRESSURE TO CONFORM IT 100% TO THE SURFACE. OTHERWISE THE TAPE WILL COME BACK UP.
This is the best product I have ever seen for marking warehouse floors. It is durable, low profile, easy to apply, reflective and non skid. Our 4" x 150' and 2" x 150' warehouse floor marking tape rolls are designed to stripe asphalt or fully cured concrete. It is excellent for factory floors, parking garages, warehouse floors, factory floors, roads and any other area where high visibility delineation is needed. It is also excellent as Non Skid Tape for stairs and ramps in dry areas. Our tape is simple to install with no special equipment or contractor required. It is as thick as normal striping paint and has a durable, reflective, non skid surface. The tape's aggressive adhesive and conformable aluminum backing insure that when properly applied your reflective white or yellow lines will remain in place. Longevity depends on traffic flow and proper installation. The tape performs best on smooth surfaces where all of the tape can make contact with the surface. Warehouses with moderate traffic often get years of service out of the tape. If a section gets damaged it only takes a minute to remove and replace the damaged section. The tape will conform to a moderately rough surface but performs best on smooth surfaces.

To install our warehouse striping tape simply apply it to a clean, dry surface and press it on. Proper adhesion can be achieved by going over the tape with a heavy roller or by using a dolly tire with weight on it. This forces the tape to conform to the surface and prevents water from getting under the tape. Avoid applying the tape to damp asphalt or cement. For outside applications it is best to apply when it has not rained in 48 hours . After application the tape is ready for traffic. Full curing occurs after about 48 hours. Holds up to traffic driving straight over it. However, twisting tires can cause it to release. (priming with contact cement will enhance adhesion)

We carry this tape in both WHITE and YELLOW in STANDARD and HEAVY DUTY grades.

Our HEAVY DUTY grade is thicker, more reflective and more non skid. It also contains more adhesive.

CLICK HERE TO SEE INSTALLATION PICTURES AND INSTRUCTIONS.
CLICK HERE FOR MORE INSTALLATION INSTRUCTIONS
CLICK HERE FOR PRODUCT PHOTOS

We also carry this product in 6", 8", 10" and 12" rolls. We carry the standard and heavy duty grades. The prices are $89.99/$99.99 for the 6" rolls, $119.99/$139.99 for the 8" rolls, $149.99/$169.99 for the 10" rolls, and $179.99/$199.99 for the 12" rolls. (call to order these sizes)
---
---
If you wish to order with a check or money order you can send payment along with a description of what you are ordering to

Reflective Inc.
1610 Guam Lane
Gulf Breeze, Fl 32563

---
TO PAY VIA GOOGLE CHECKOUT MAKE YOUR SELECTION BELOW. SHIPPING IS INCLUDED IN THE PRICE YOU SEE.