Making Garden Stone Molds
BRUSH ON METHOD USING LATEX AND A MOTHER MOLD
---
Latex is the least expensive of all the flexible molding compounds. Since it is so strong and so flexible it can be used to create a multitude of different molds. Undercuts are no problem for this material. In all cases using latex a mother mold is necessary.
In this example I am using a plaque that was damaged in a fire. Instead of refinishing it I am going to reproduce in plaster from scratch by making a mold from the original. Also, I am going to increase the thickness of the plaque by using clay around the base.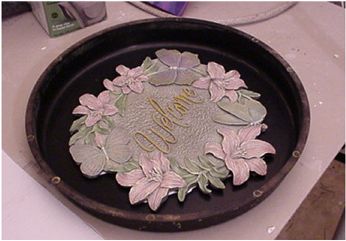 Modeling clay is applied to the underside of the model to raise it up off the baseboard and to seal off the mold so that the latex does not seep under.
---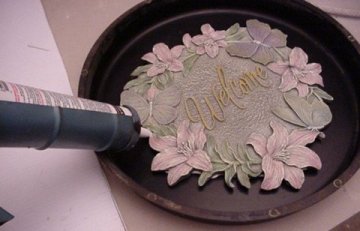 The model is flipped over and pressed onto a coreplast baseboard.
---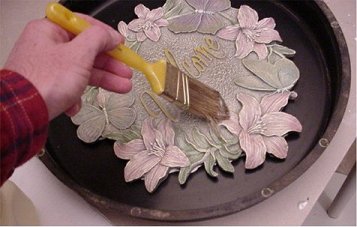 The edges are smoothed out so that the finished mold will create a plaque similiar to the original only thicker.
---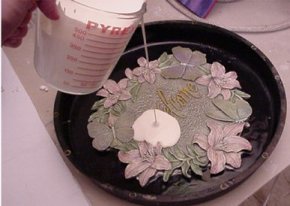 Once the model is attached to the baseboard the entire model is sealed with Krylon Acrylic.
---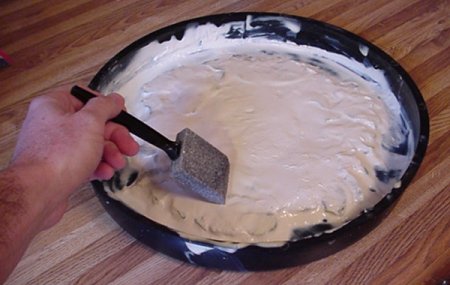 After the acrylic dries the model is sprayed with a release agent to keep the latex from sticking.
---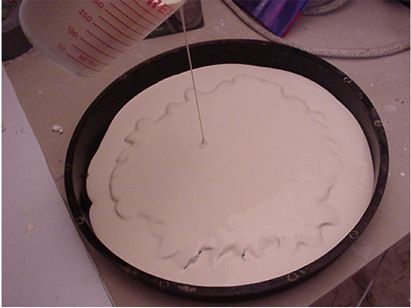 The model is coated with several coats of latex molding compound. Between coats the brush can be stored in a cup of water. About 10 coats will be applied in this example.
---
After coating the model with latex it needs to vulcanize or set up. This takes about 4 days at room temperature or 4 hours at 120 degrees. After the latex has set a containment can be built around it like in the previous example and after spraying the containment frame and latex covered model with a release agent a plaster mother mold can be poured. Once this has set you are ready to separate the mother mold from the latex mold and containment field and the latex mold from the model. To create castings simply lay the new mold into the plaster mother mold, spray with a release and pour your plaster or cement. Let is set and pop it out of the mold. Latex is very durable and will yield a large number of castings.
---
---
CLICK HERE FOR PAGE ONE OF OUR MOLD MAKING GUIDE
CLICK HERE FOR PAGE TWO OF OUR MOLD MAKING GUIDE
CLICK HERE FOR PAGE THREE OF OUR MOLD MAKING GUIDE
CLICK HERE FOR PAGE FOUR OF OUR MOLD MAKING GUIDE
---
---
Privacy Policy - Third Party Advertising

Google, one of our third-party advertisers, may add a cookie to determine targeted advertisements based on your preferences and your visit to our site and other sites on the internet. You can choose to opt out of Google's use of cookies by visiting the Google ad and content network privacy policy.