HI INTENSITY TYPE III REFLECTIVE TAPE
1" 2" 4" 6"and 8"
FLEXIBLE HIGH INTENSITY REFLECTIVE TAPE
1" 2" 4" 6"
REFLEXITE V92 PRISMATIC REFLECTIVE TAPE
1" 2" 3" 4" 6"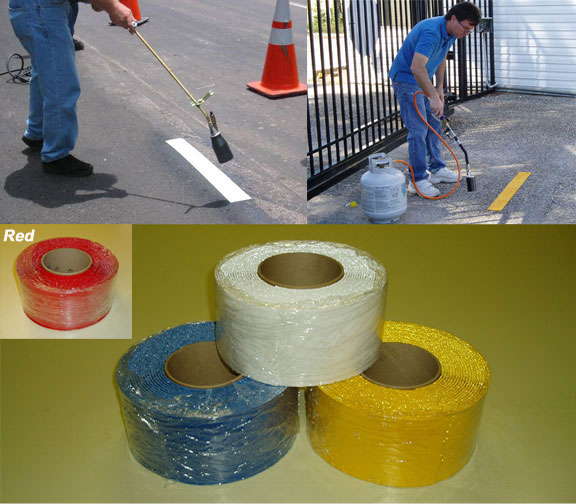 CLICK HERE FOR INSTALLATION PHOTOS
CLICK HERE FOR AN INSTALLATION VIDEO
Note - Yellow are White are currently only available in 3 roll cases with a 3 case mimimum (9 rolls) Email me at steve@reflectivestore.com or call 850-934-3157 to order yellow.
Our 4" preformed thermoplastic pavement marking tape ROLLS are designed to stripe asphalt parking lots, roads, bike paths and any other area where heavy duty, high visibility delineation is needed. It is great for creating crosswalks, car spaces, stop pads, hazard areas, etc.. This product will last 5 times longer than paint, is reflective and best of all, you can put it down yourself. No contractor required.

Our tape is simple to install using a broom and a propane torch for asphalt. No contractor required. It is 90 mils thick and has a durable, reflective surface. Since this is a melt on type product the tape will conform and bond to moderately rough surfaces or smooth surfaces and is incredibly tough. When properly installed you will get years of service out of this material. It can handle any type of traffic.

To apply to asphalt simply broom or blow off the dry, oil free area to be striped, heat the area with a propane torch, lay out the stripe and then slowly heat the surface of the stripe until a permanent bond is created. Once the material has cooled the area is ready for traffic. Please refer to the link above for complete instructions. It is important for this product to be installed properly.

On this page we sell this tape by the 4" roll in WHITE, YELLOW and HANDICAP BLUE.

Click here to order rolls in 4" - 24" widths by the CASE.

(For all other preformed thermoplastic products such as arrows, letters, symbols, etc..
CLICK HERE for our Pre-Mark Price List in a PDF format
and then call us at 850-934-3157 or email me at steve@reflectivestore.com)
---
4" ROLLS - available by the case only - call 850-934-3157 to order - case price $220 - $240 - 3 rolls per case - 90 LF per case
---
If you wish to order with a check or money order you can send payment along with a description of what you are ordering to

Reflective Inc.
1610 Guam Lane
Gulf Breeze, Fl 32563

---

About our products - We carry the finest quality industrial/commercial reflective tapes, reflective iron on tape, non skid tapes and pavement marking tapes available. Our parking lot striping tapes are manufactured using the highest quality raw materials that result in a durable application that is resistant to heavy traffic, water and grease.

We ship UPS for most orders. Delivery time is approximately 3-5 days on most standard orders.

Return and Order Cancellation policy - 4" 6" preformed thermoplastic parking lot striping / pavement marking tape orders can be cancelled until they are shipped out. After that we do not accept returns unless there is a defect in the product that cannot be remedied. If an item is found to be defective it can be returned for a full refund of the purchase price.

Privacy Policy - all customer information is kept in strict confidence. We do not release any information on any of our customers to anyone without that customers consent.

---